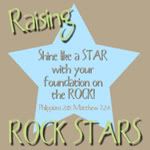 I've really been wanting to teach Bekah more about God's Word. She "learns about Jesus" in Sunday School and Church, but I want her to see that Mommy and Daddy see it as important too. So, I've decided to link up with
1+1+1=1's Raising Rock Stars.

For our first week we did the story of Creation. I think since there is so much information we might do a two week study.
We read from our Children's Bible as well as the books The Seven Days of Creation adapted from the Bible and illustrated by Leonard Everett Fisher and the book, The World God Made by Donna D, Cooner. The Seven Days of Creation book had such beautiful illustrations. It was definitely a favorite!
Our project this week was a HUGE poster of what God made on each of the seven days. Bekah was so excited when she saw the size of the poster board. She couldn't wait to start!
First, we used the coloring sheets found at
Christian Preschool Printables.
Bekah colored them in and I cut out the picture. (I really think she rushed through these to get to the point where we were ready to glue them on the HUGE poster board!)
I wrote on the poster board Day 1, Day 2, etc. and Bekah had to match up the correct picture to the day.
This was so simple to do, but she loved every minute!
Here's our finished product...